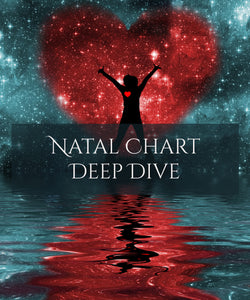 In my opinion, radical self-acceptance is the guardian to everything we want out of life, yet it can be SO DIFFICULT when we hear so many voices (inside our heads and from other people's mouths) telling us who and what we are.
In this natal astrology or natal tarotscope chart reading we will look at who you are and how you were made. Prepare to leave this session feeling empowered, understood, and deeply seen. Come with questions and we will find answers and create unique strategies that will work with your unique astrological makeup.
This reading is best experienced when we can meet live via Zoom, but prerecorded sessions are available in the case of scheduling conflicts and other barriers. Just let me know.

The session will be recorded either way so you can refer back to it whenever you like. When you receive your link to schedule, you will be able to leave your birthday, time and place of birth, as well as the type of work you'd like to do together and what you'd like to focus on. 
Have questions? Email me directly at rev.anandasykes@gmail.com